On January 2, the opening ceremony of "Chinese Bridge" Online Hunan Camp was held. It was organized by Center for Language Education and Cooperation of China and hosted by Central South University. Dean HUANG Helai and Vice Dean XIANG Xueyong from School of International Education, CSU, along with Dean MA Xinqiang and Dean Fundi Tanganika Eloi of the Confucius Institute at Congolese Diplomatic Academy, the representative teachers from Songkhla Rajabhat University and Mae Fah Luang University of Thailand were present at the opening ceremony. 128 international students from 15 countries and Chinese volunteers from CSU also attended.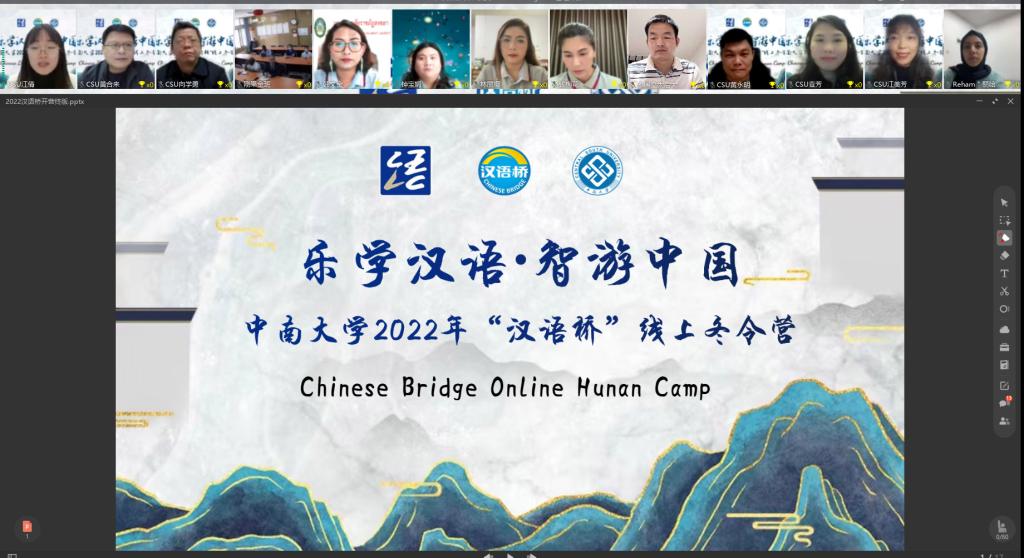 Dean HUANG Helai delivered a speech at the opening ceremony, encouraging students to learn more and experience more eagerly, to absorb the knowledge of the Chinese language and culture, to understand the real China through multiple channels deeply, and to play an active role in promoting "people-to-people bond" all over the world.
YUAN Fang, the representative teacher, promised that the teachers from the camp would present high-quality Chinese language courses and various cultural experiences, take students to the tea culture and intangible cultural heritage, learn about Chinese high-speed rail, ancient bridges, powder metallurgy, hybrid rice and the story of Shibadong village. She hoped that all students would have a lot of fun and rewards in this winter camp.
After that, the representative participants JANTAKAN DAMTEH from Thailand, VU XUAN MANH from Vietnam, and MATINGU DIEU MERCI DIEGO from DRC expressed their love for the Chinese language and culture. They thanked the Center for Language Education and Cooperation of China and CSU for providing these valuable learning opportunities for Chinese lovers.
Finally, Vice Dean XIANG Xueyong announced the "Chinese Bridge" Winter Camp was officially launched.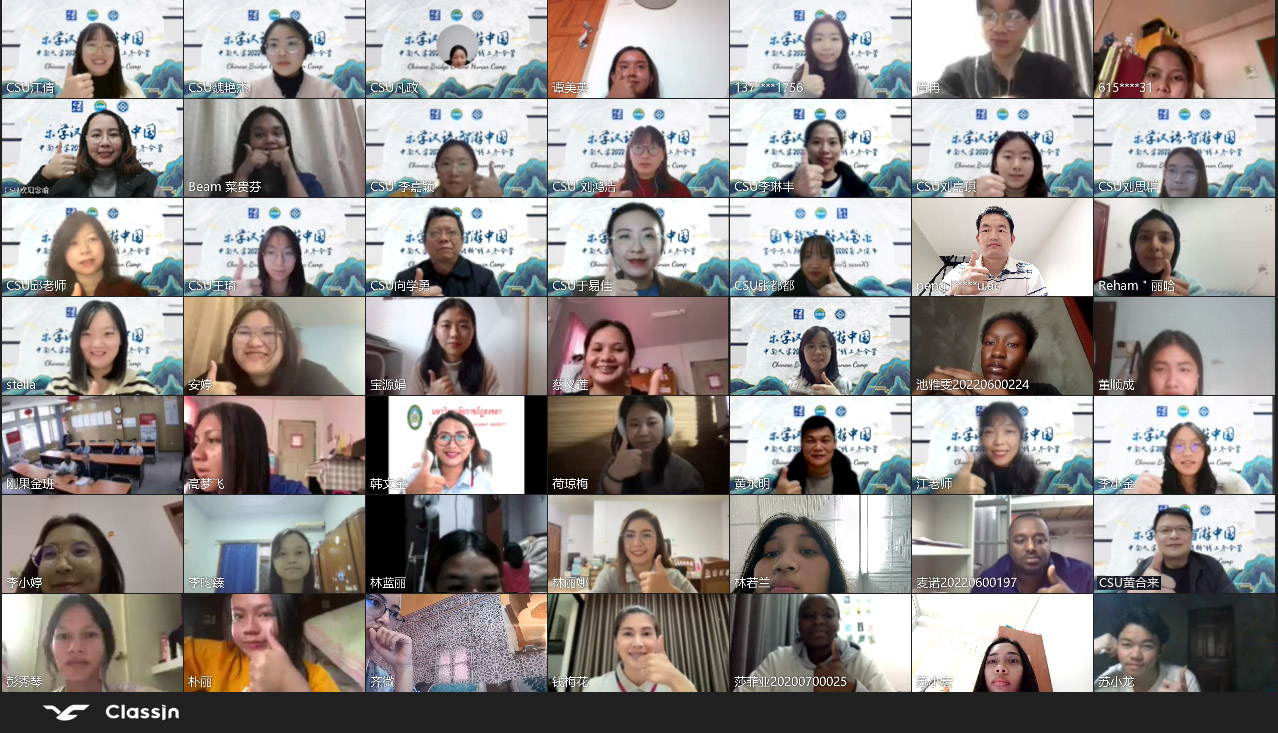 Themed "Enjoy the Chinese Language, Explore the Chinese Wisdom", this winter camp will last for two weeks and be divided into four major sections: "Chinese Language Studying", "Themed Forum", "Expert Lectures" and "Cultural Experience", with various teaching forms, such as live streaming, online activities, video courses and so on. This is the second time CSU has been approved to host the "Chinese Bridge" online group program by the Center for Language Education and Cooperation of China.